Oh God not again was probably my first coherent thought during the game yesterday as Marcos Rodriguez managed to head the ball into our net. The two people next to me missed the goal completely it was so early into the match. This season seems to have been one struggle after another. On the other hand the game has bought me into contact with so many great people. One who will be missed is Andy Glover who sadly died In January. My best memory of Andy would be last season going to Salamanca with Armada Sur. Andy ended up in the middle row of the minibus next to me. I am not sure I have ever laughed so much. In front were Chris and Frank and to my right was JuanMa. The three all knew the best way to get to Salamanca and "discussed" it. Andy took the pi** the whole journey and I just got go laugh. Yesterday I saw once more what a family CD Tenerife really is. The Frente Blanquiazul, the big bad fan club wre amazing.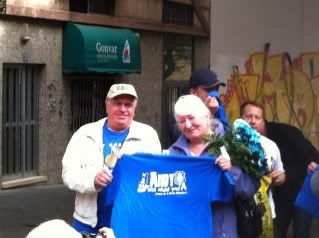 Out of their own pockets they bought t-shirts comemorating Andy. They congregated early and weal led down to the Armada Sur bar singing "Andy we won't forget you". With blue and white flowers for Andy's mum they remembered Andy in style.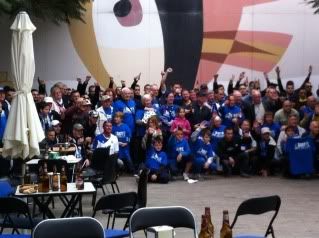 At the start of the game they had a banner to remember him again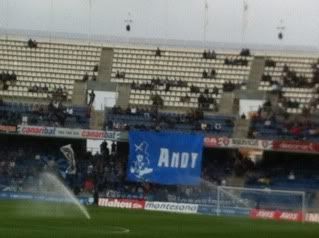 And I think he was there pushing the team on. The new coach seems to have instilled the will to fight in the squad. CDT had over 30 shots into the goal area as against the 4 Albacete managed. At no point did the team look ready to give up, draw back or just defend. The equalizer came Late in the 67th minute from a free kick taken by new player Luis Loro and the goal which put the team into the lead was by Canarian player Pablo Sicilia in the 89th minute with a header. The crowd went wild and some of the happiness which has been missing in the last two seasons returned to the Heliodoro. Pablo, ever the hero took his shirt to Andy's mum at the end of the game. It was a great day and worth mentioning that from all the games this season there were only 8 stadiums with more fans. Not in 2b nor in 2A was there a stadium with as many fans. CD TENERIFE 2 (0) ALBACETE BALOMPIÉ 1 (1) CD TENERIFE Sergio Aragoneses; Cristóbal, Raúl Llorente, Pablo Sicilia, Ayoze Placeres; Kitoko, Marcos Rodríguez (Perona, 52'), Kike López, Ferrán Tacón (Chechu, 52'); Luismi Loro & Kiko Ratón (Aridane, 61'). ALBACETE BALOMPIÉ Miguel; Alba, Noguerol, Joan Castillo, Zurdo; Añón (Raúl Ruiz, 63'), Candela (Núñez, 54), Rocha, Adriá; Sergio Molina (Viguera, 76') & Calle. REFEREE Francisco Javier Barberá Fuentes, from Valencia. Yellow cards for local players Kitoko, Marcos Rodríguez & Sergio Aragoneses; and for visitors Rocha, Calle, Zurdo & Castillo. GOALS 0-1: (2') Marcos Rodríguez, in the CDT goal. 1-1: (67') Loro, from a free kick. 2-1: (89') Pablo Sicilia, with a header. INCIDENTS Played in the Heliodoro Rodriguez stadium. With grass in good condition on a cold morning with 9993 fans in the stands. The delegate was Carlos Gaviño, as Víctor Padrón couldn't be there due to being sent off last week.