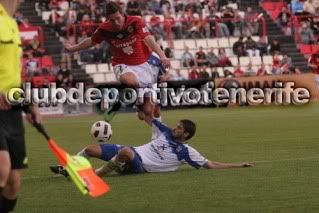 GIMNÁSTIC DE TARRAGONA 1 (1)
CD TENERIFE 1 (1)
GIMNÁSTIC DE TARRAGONA
Rubén, Álex Bergantiños, Mingo, Medina, Moirata; Seoane, Delporte (Eloy, 68'), Felipe Sanchón, Xisco Campos; Morán (Álvaro Rey, 31') & Barry Powel (Virgili, 81').
CD TENERIFE
Sergio Aragoneses; Pablo Sicilia, Luna, Prieto, Bertrán; Ricardo, Kitoko, Dubarbier (Omar, 54') (Julio Álvarez, 72'), Juanlu; Natalio (Igor, 82') & Nino.
REFEREE
Cerro Grande, from Madrid. Sent off for double yellow Luna (76'). Yellow cards for local players: Mairata, Xisco Campos y Álvaro Rey; and visitor Dubarbier.
GOALS
0-1: (26') Nino, from a cross ball. 1-1: (44') Sanchón, from inside the area.
INCIDENTS
Played in the Nou Stadi with 7.201 spectators. The grounds were in good condition and it was a warm afternoon.